Overview
ROCKPALS ROCKPOWER 300W POWER STATION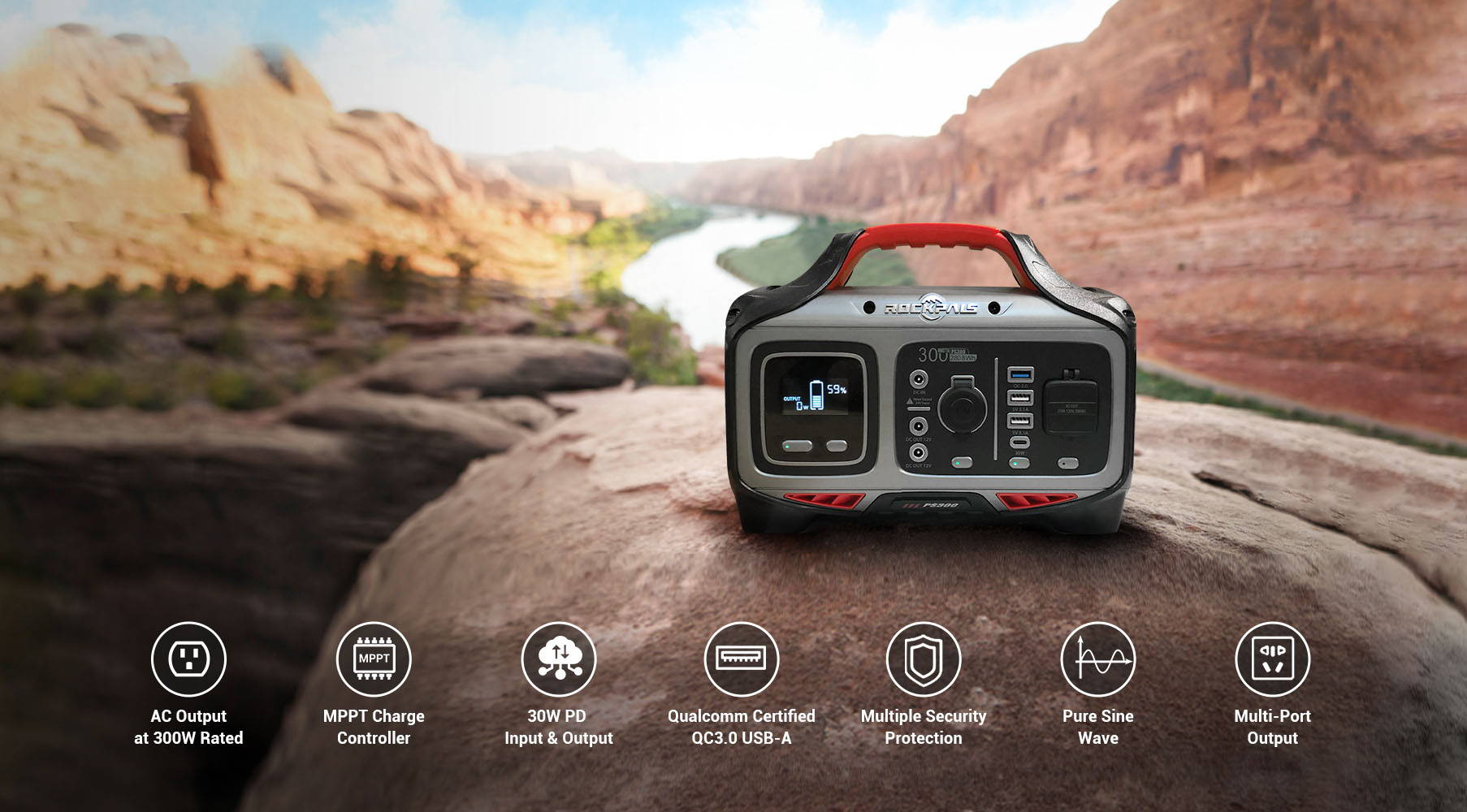 Fast Charging And Keep Power Anytime
Rockpals 300W Support Faster Recharge Rate
Quick charge USB 3.0 and 30W USB-C PD output for 40% faster charge--revive your MacBook Pro in only 3-4 hours.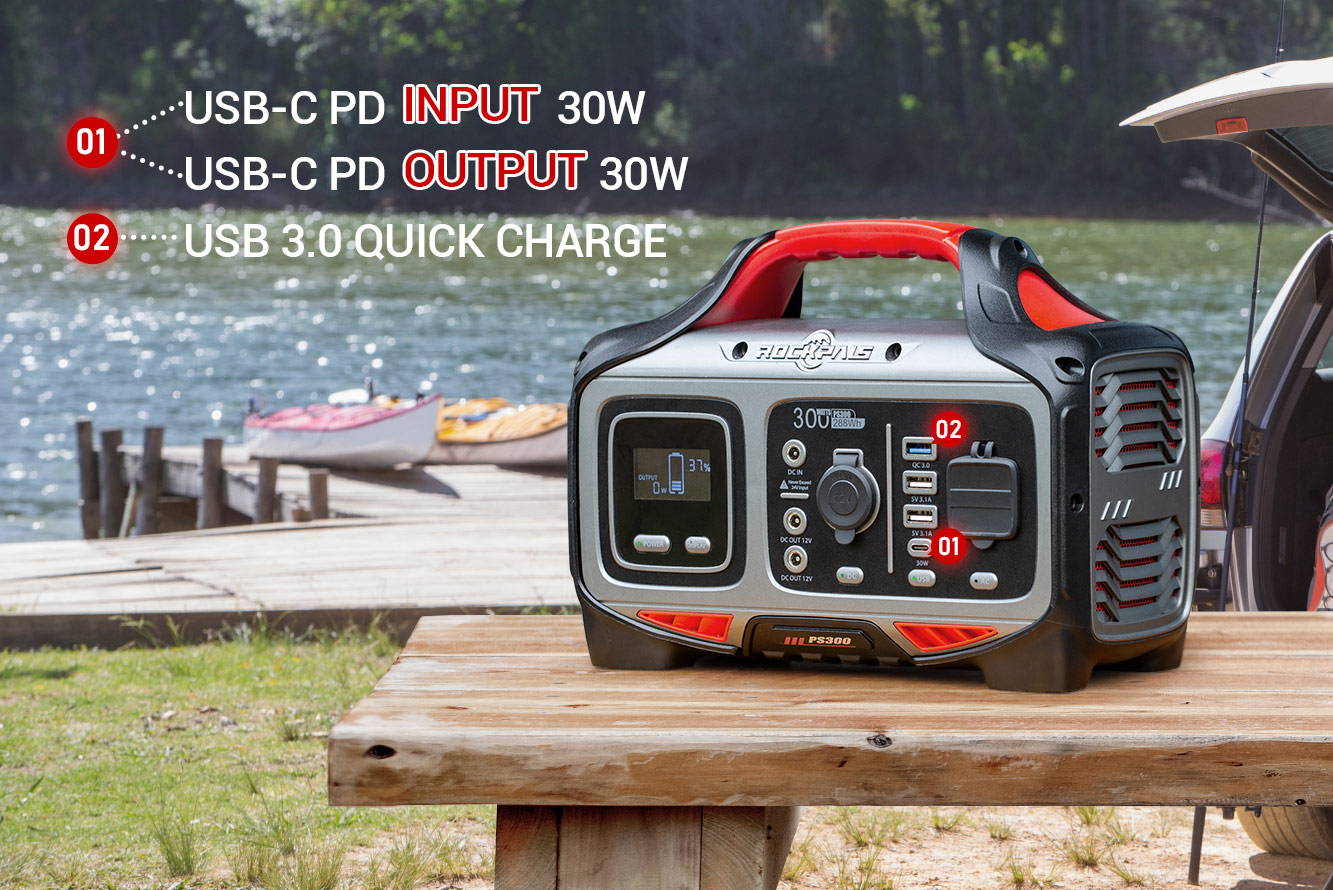 DC & USB Support Pass-through Charging
While charging the 300 watt power station, the power station can also charge your device. no longer have to worry about your device and power station running out of electricity again.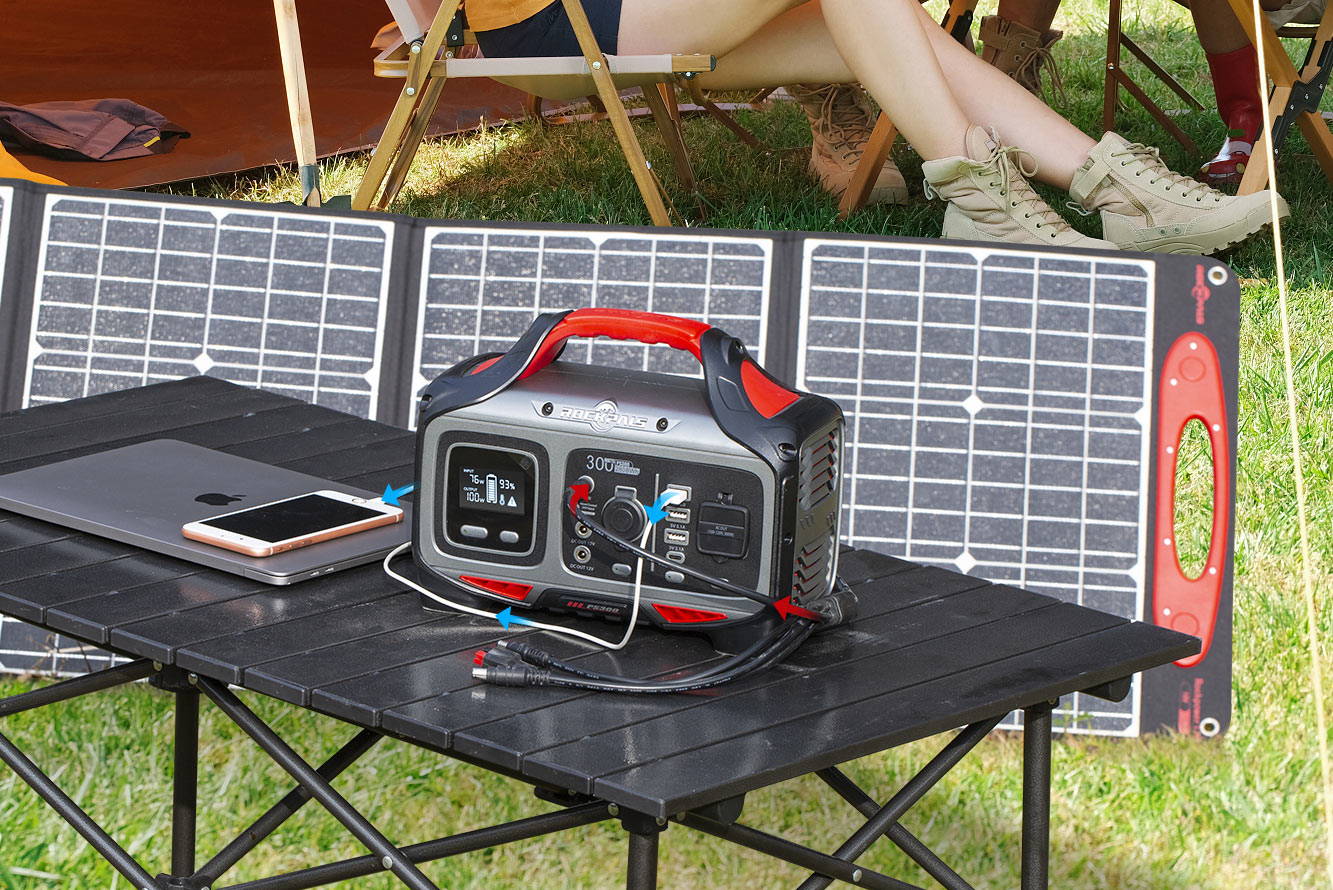 Five charging methods to choose from
1. From Solar Panel Charger:only need about 4.5H with 100W solar panel
2. From Car Charger: About 5H
3. From Wall Charger: About 4.5H
4. From USB-C PD Charger: About 9.5H
5. From USB-C PD Charger(30W)+Wall Charger(72W): only need about 3H with 102W charging power
(the recharging time refers to 80% of the power level being charged)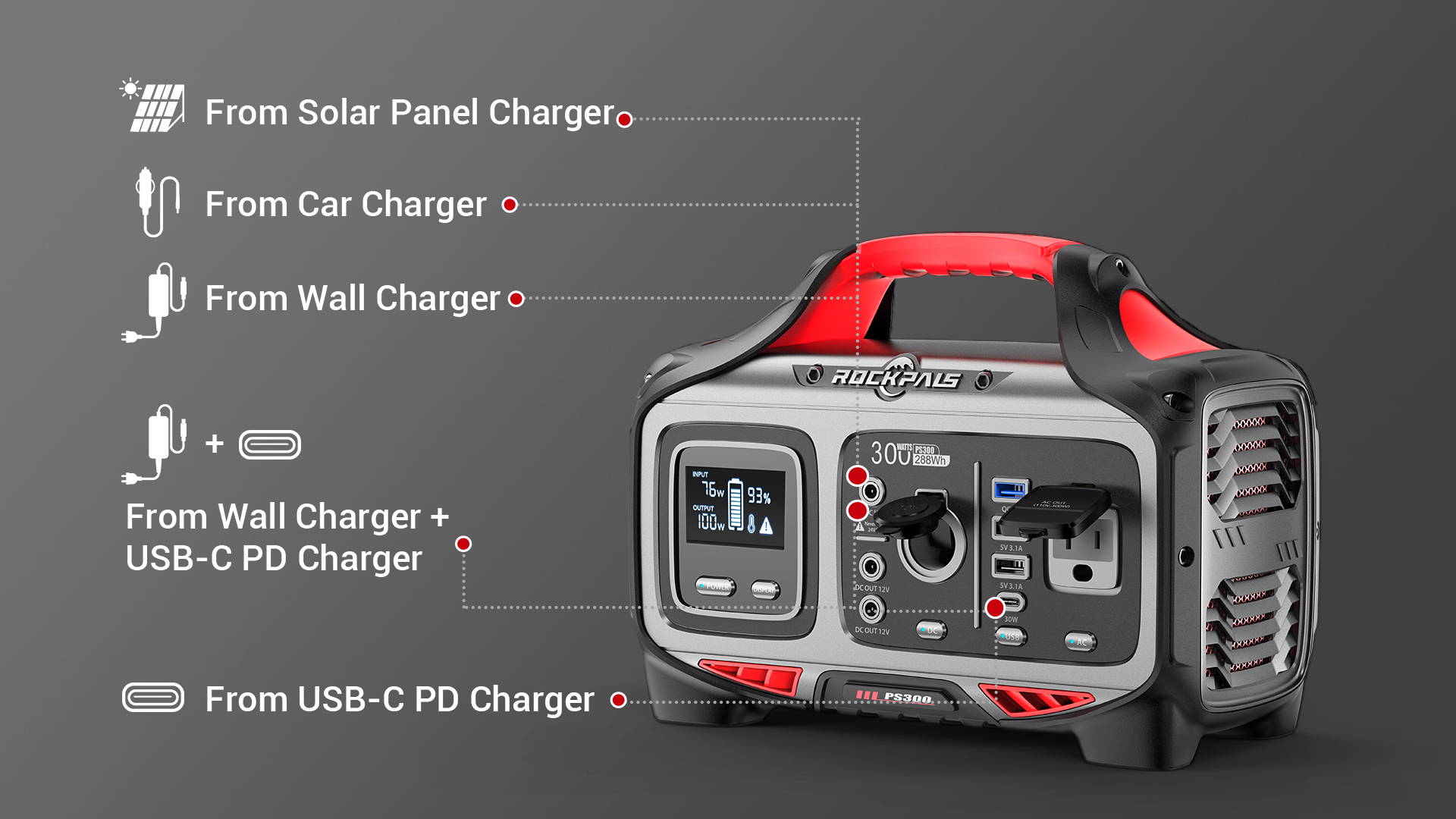 PREPARING YOUR SOLAR GENERATOR
OFF-GRID SOLAR GENERATOR, GREEN AND CLEAN POWER STATION
With the MPPT solar charge controller inside, the Rockpals Rockpower 300W can be charged more efficiently. When paired with a compatible solar panel like the Rockpals 100W (sold separately), it can perform as a solar generator. Under full sun, the Rockpals 100W can charge the Rockpals 300W in just 4 hours from 0-80%. (Shop Rockpals 300W Solar Generator )
Solar Recharging Steps:
1. Find the DC interface of Rockpals 100W Solar Panel;
2. Connect the DC interface of Rockpals 100W with the DC input of the Rockpals 300W Power Station.
Please Keep the Following in Mind While Solar Recharging:
1. Recharging time varies depending on location, temperature, weather, etc. Therefore, the actual recharge time may be different.
2. Keep your portable power station away from heat and direct sunlight to extend its life span during recharging.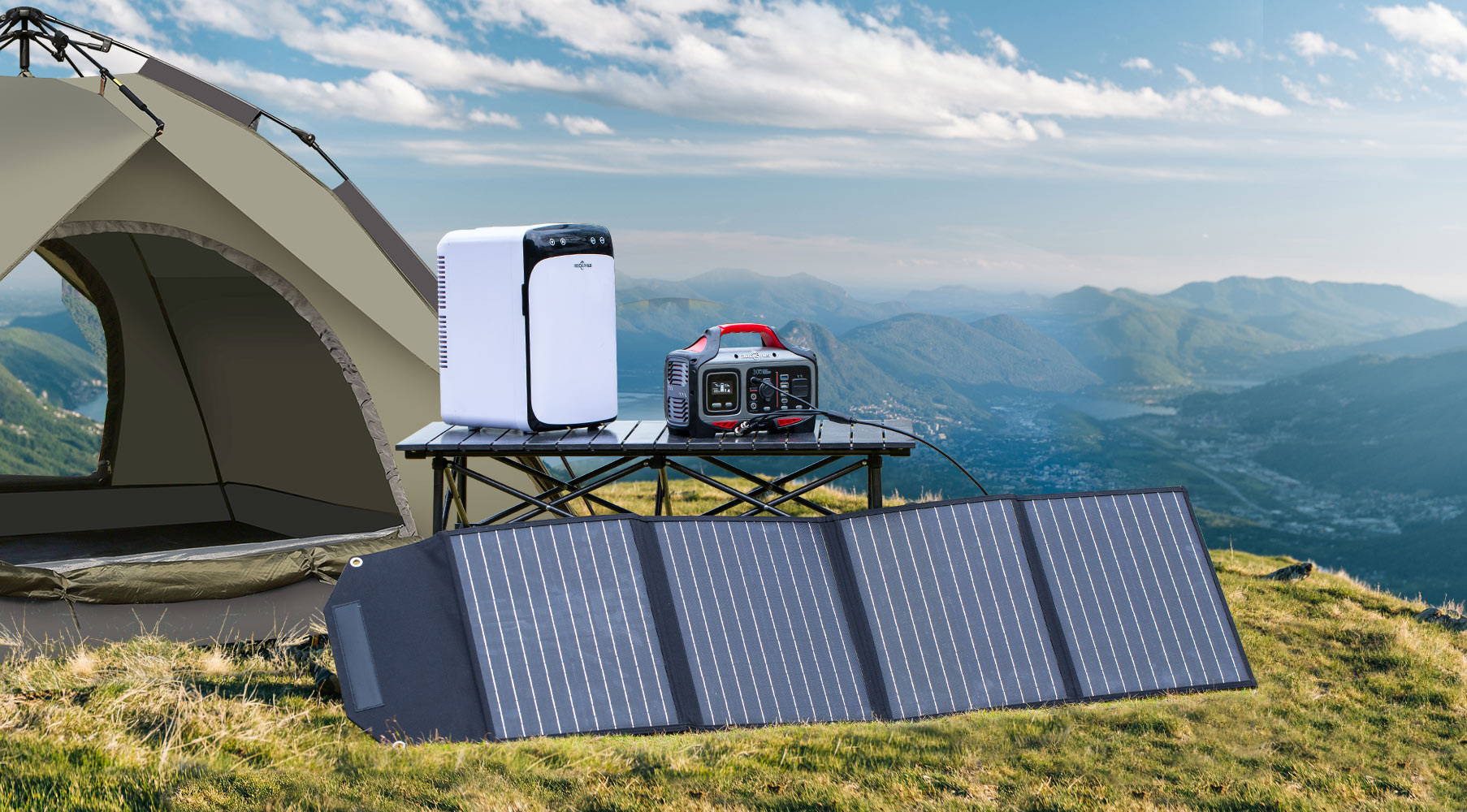 Rockpals 300W Power Station Offer Reliable Power Support
Advanced Battery Management System
Multifunctional safety protection:
Over-charging protection
Over-voltage protection
Over-power protection
Over-heat protection
Short circuit protection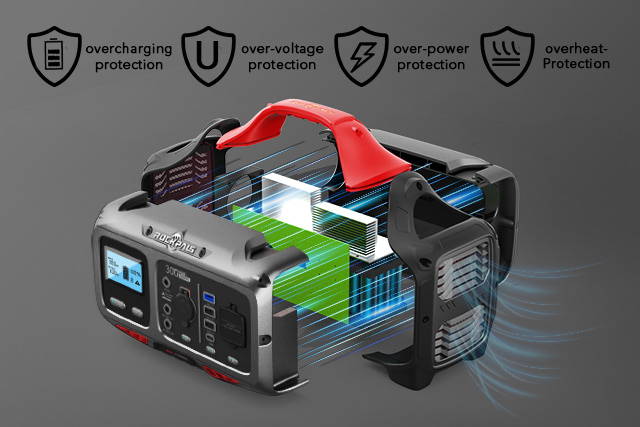 CPAP Backup Battery
Can power your CPAP in two ways:
AC Outputs (110V 300W) and DC Outputs (12V/10A): 120W
Please Check Your CPAP Power Supply Watts, Volts, and Amps Before Purchasing Rockpals 300w Power Station.It should be under Rockpals 300w maximum limit according to different ports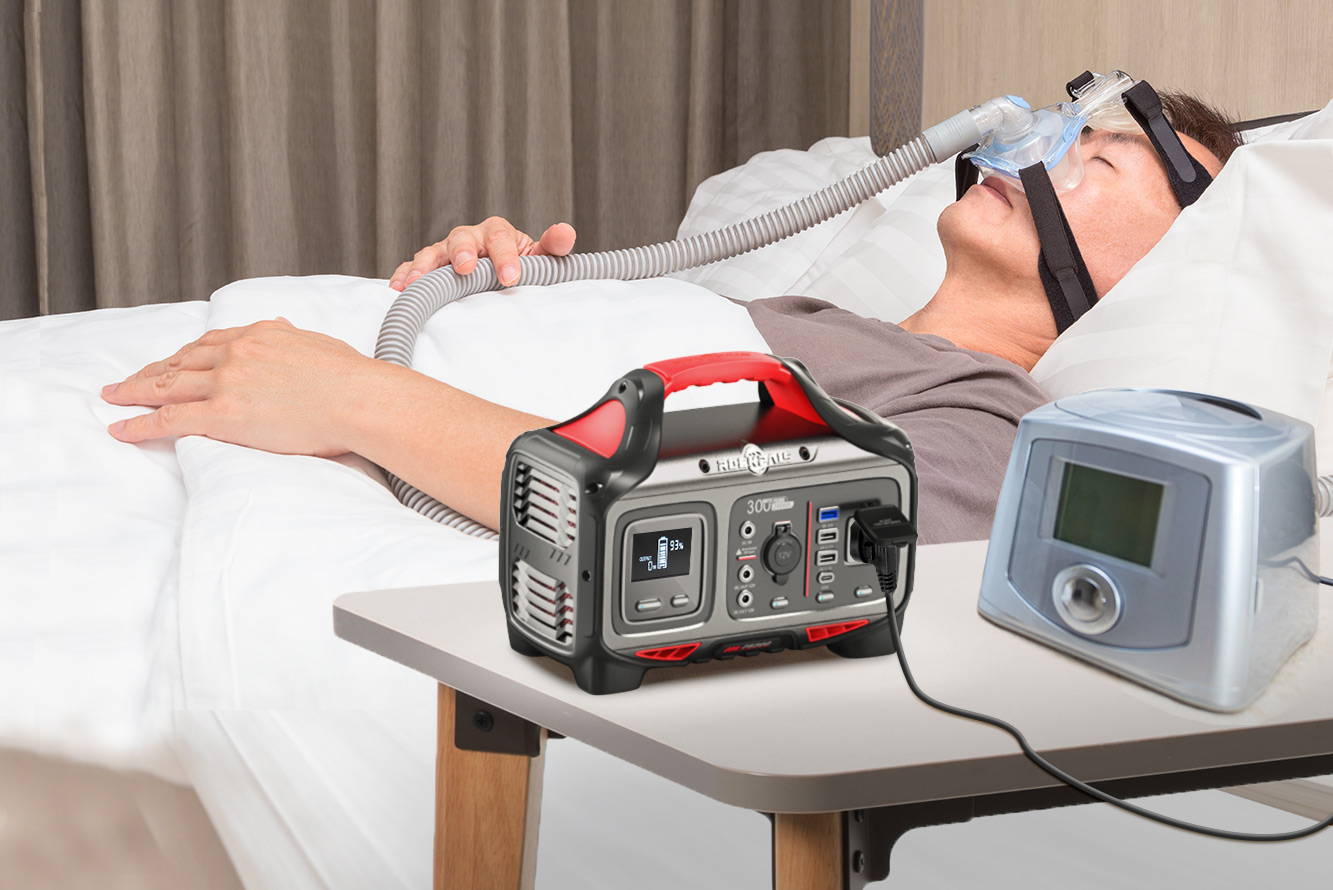 Give Your Appliances More Run Time
Drone(60w): 4 charges
iphone 13 Pro Max (20W): 11 charges
Macbook(41.4w): 5-6 charges
Camera(16W): 15 charges
Light(10W): 22-24 Hrs
Laptop(60W): 4 charges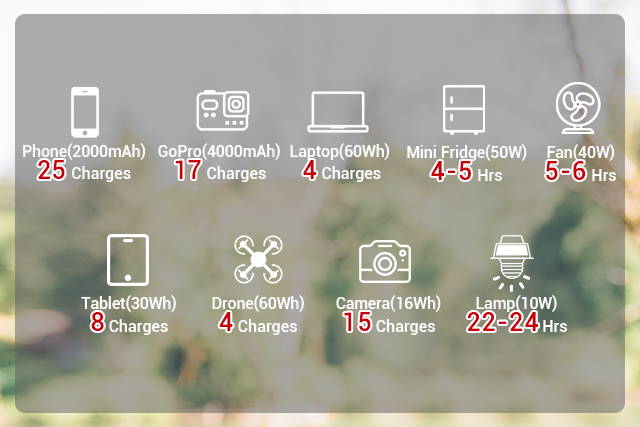 POWER OUTDOORS AND CARE FAMILIES
RV CAMPING/FISHING/OFF ROAD/HUNTING/BACKYARD GETAWAY/EMERGENCY
Durable, versatile, and compact enough to tote along wherever your weekend takes you. Rockpals 300W is the right portable power station for you when going camping off the grid, out there in the wild or in an emergency situation. It has enough power to run many of your personal electronics such as digital cameras, laptop, drone, mini cooler, outdoor lights, cooler, projector, pump and more!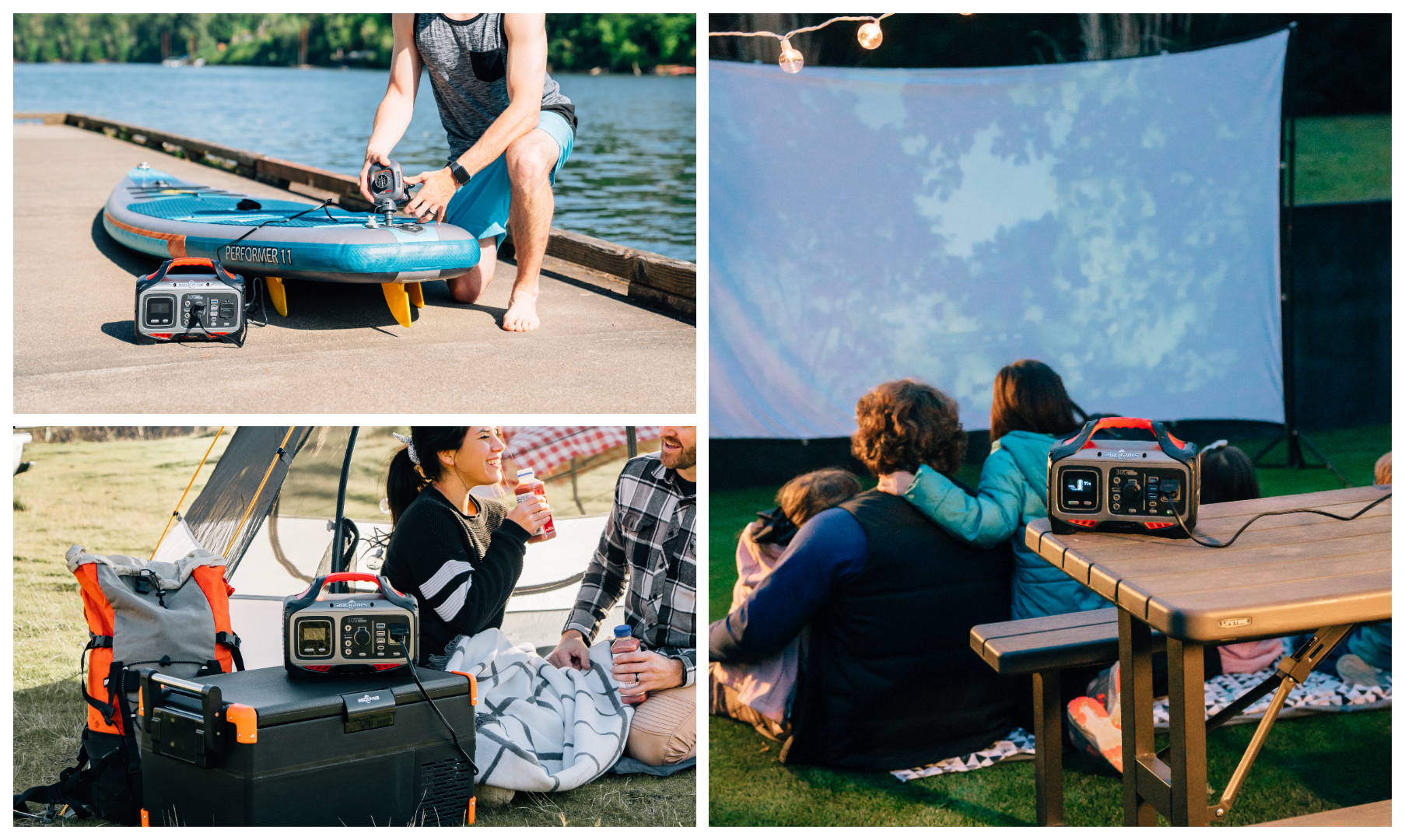 ROCKPALS 300W SAFETY BACKUP POWER STATION
HANDY DURING POWER OUTAGE, CARE FAMILIES, CPAP POWER BACKUP
Specs
SPECS
Capacity
280. 8Wh/78000mAh
Dimensions (LxWxD)
10.5 x 5.3 x 8.5 inches
Product Weight
7.7 lb (3.5 kg)
Input
DC Port: 15V/3A 72W Max
USB-C PD Port: 5V/3A, 9V/3A, 12V/2.5A, 15V/2A, 20V/1.5A
1 × Car Port
12V-10A
2 x 5mm DC Port
12V-5A
AC Output
100-120V 60Hz (300W Rated, 500W Peak)
2 x USB Output
5V/3.1A
USB-A QC Port
5V/3A, 9V/2A
USB-C PD Port
5V/3A, 9V/3A, 12V/2.5A, 15V/2A, 20V/1.5A
Cell Type
Lithium-ion Battery
Lifecycles
≥500
Working Temperature
Charge Temperature: 0℃~40℃, Discharge Temperature: -10℃~40℃
Safety Protection
Overheating Protection, Over Current Protection, Over Voltage Protection, Short Circuit Protection
Optional Accessory
What's In The Box
1 x Rockpower 300 Portable Power Station
1 x AC Charging Adapter
1 x Car Charger Cable
1 x Warranty Card
1 x Safety Precautions Card
1 x User Guide
1 x Quick Start Card
FAQ
FAQS
1. Does rockpower 300 include a built-in mppt controller?
Yes, the Rockpower 300w portable power station built-in MPPT controller for fast solar charging.
2. Can the Rockpower 300 be charged while using?
When you charging the Rockpower 300W portable power station, the DC ports and USB ports can work at the same time. Except for the AC port to prolong the battery life.
3. What related solar panel is suggested?
100-200W, 18V solar panel is suggested for higher power, faster charge. The charge speed is related to sun intensity.
4. What appliance can it power?
Please ensure that your power of your devices doesn't exceed 300W.
5. If this unit goes into protection mode, the advertisement states it has to be plugged into an AC outlet to reset it. Any other way to reset it?
You also can use the solar panel or car charger to make charge for the portable power station to reset it.
Safe & Secure
---
Pay with Ease
---
Trusted Delivery
---