Overview
ROCKPALS ROCKPOWER 500W POWER STATION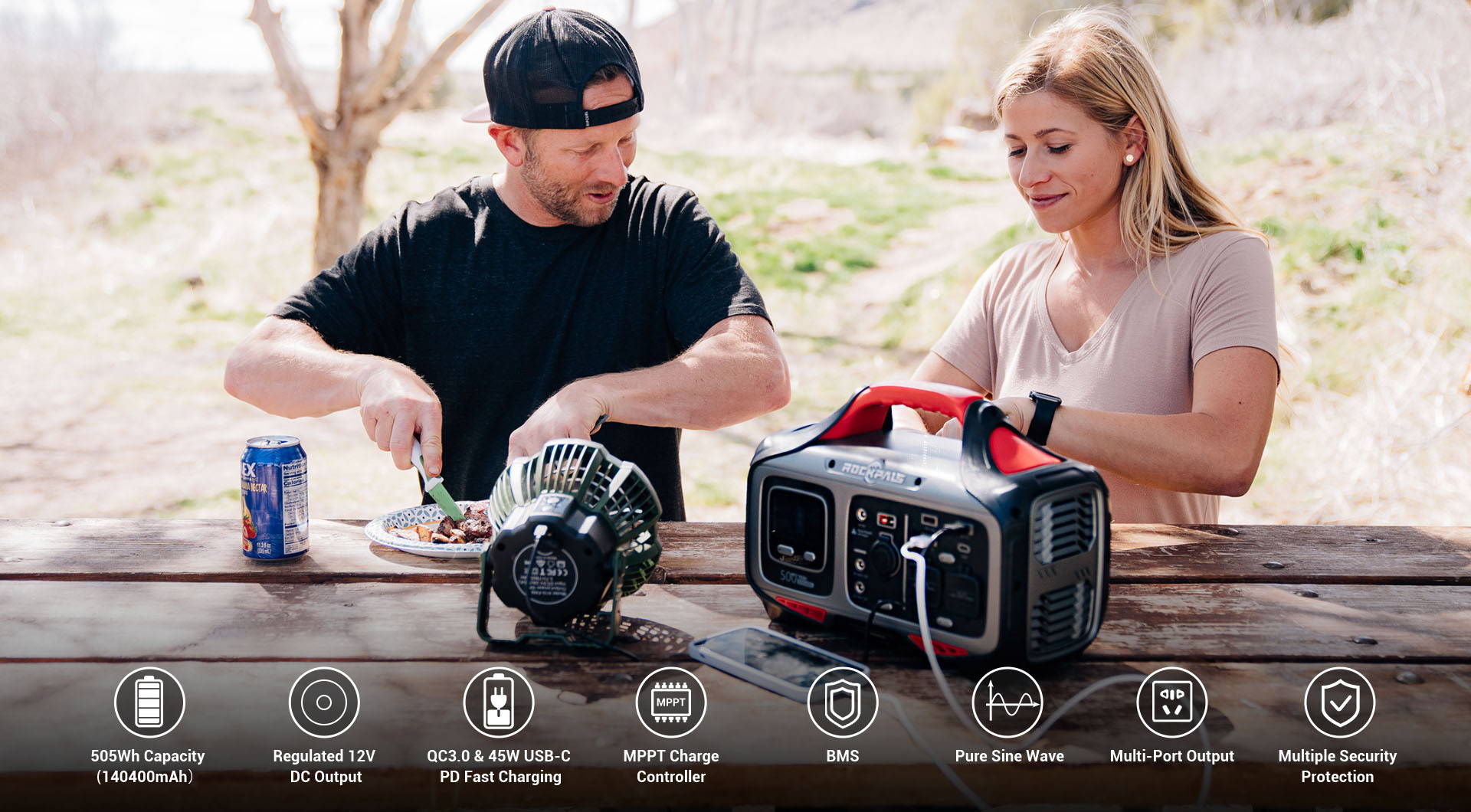 Higher Wattage & Larger Capacity& Fast Charging
500 wattage output,505Wh capacity battery,2 * 110V pure sine AC outlets,12V regulated power supply,USB-C PD 45W and 3 USB ports,117 Watt Pass-through charging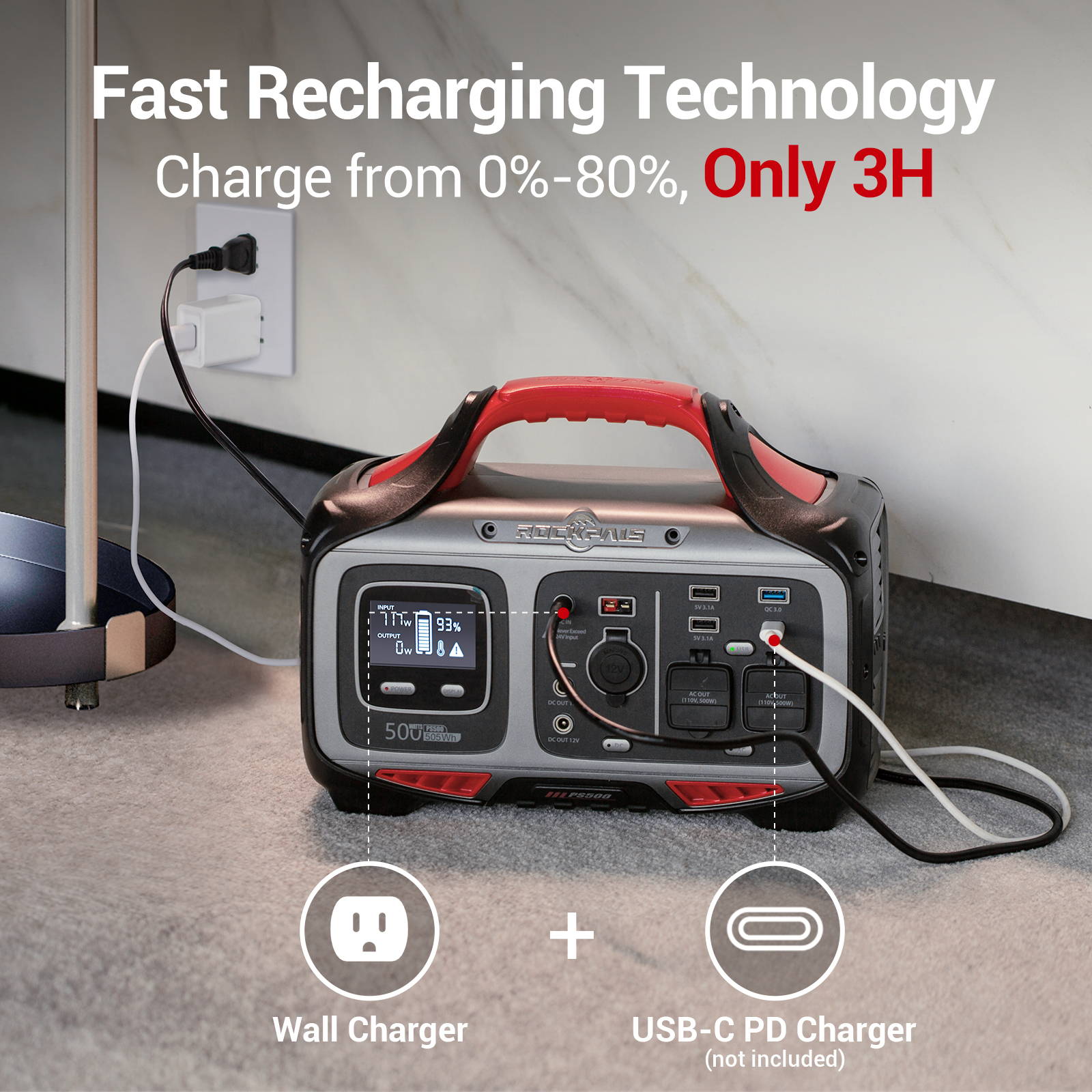 117 Watt Pass-through charging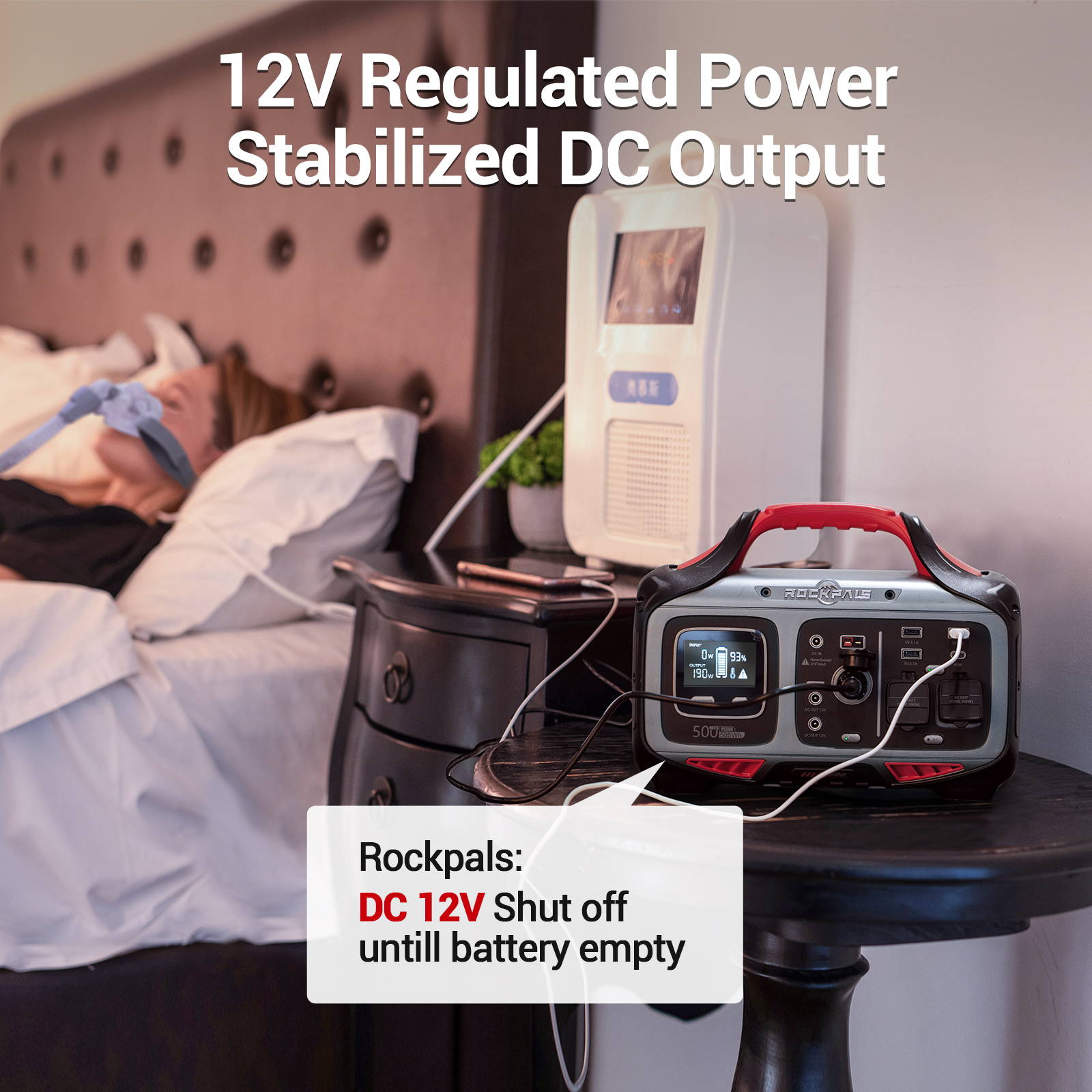 12V regulated power supply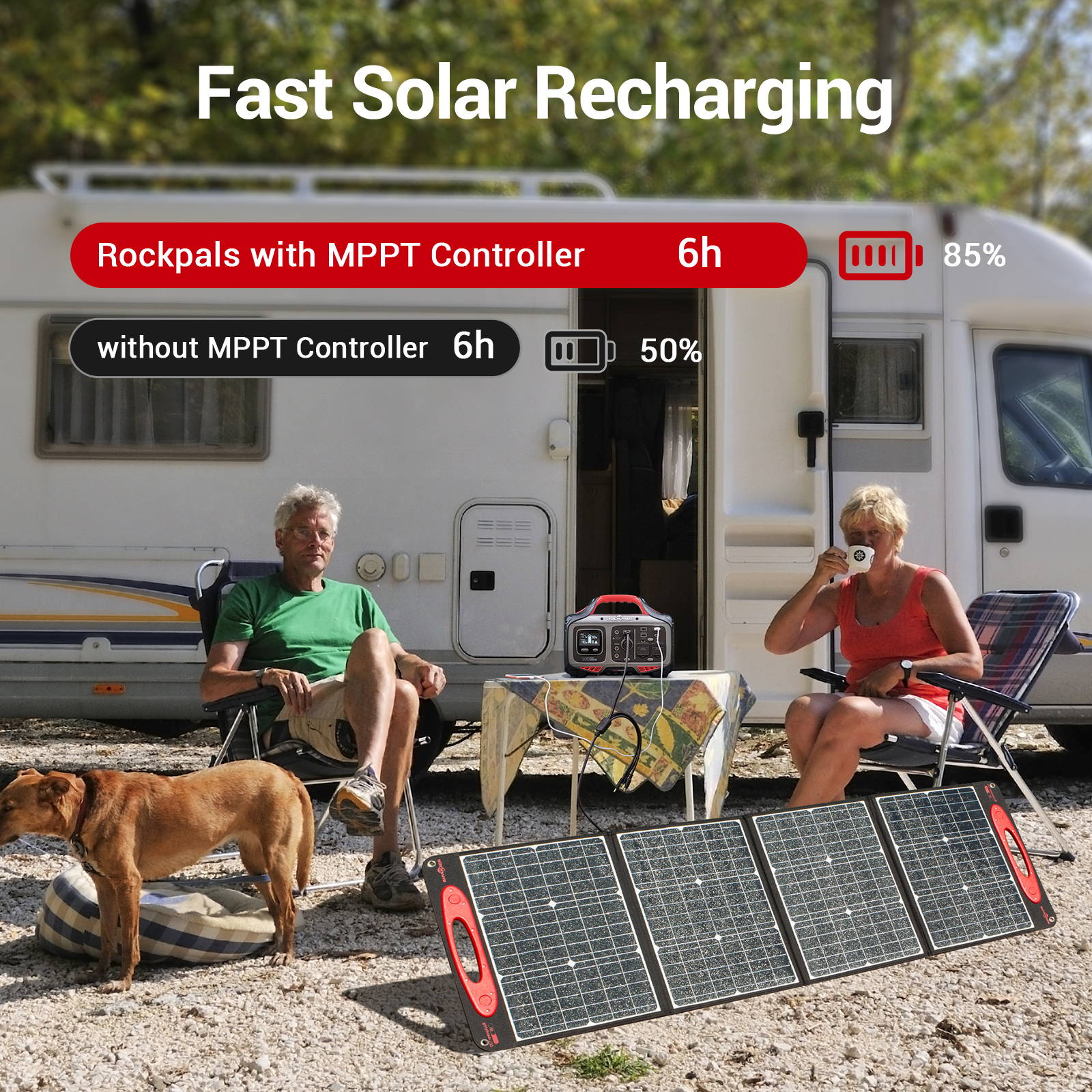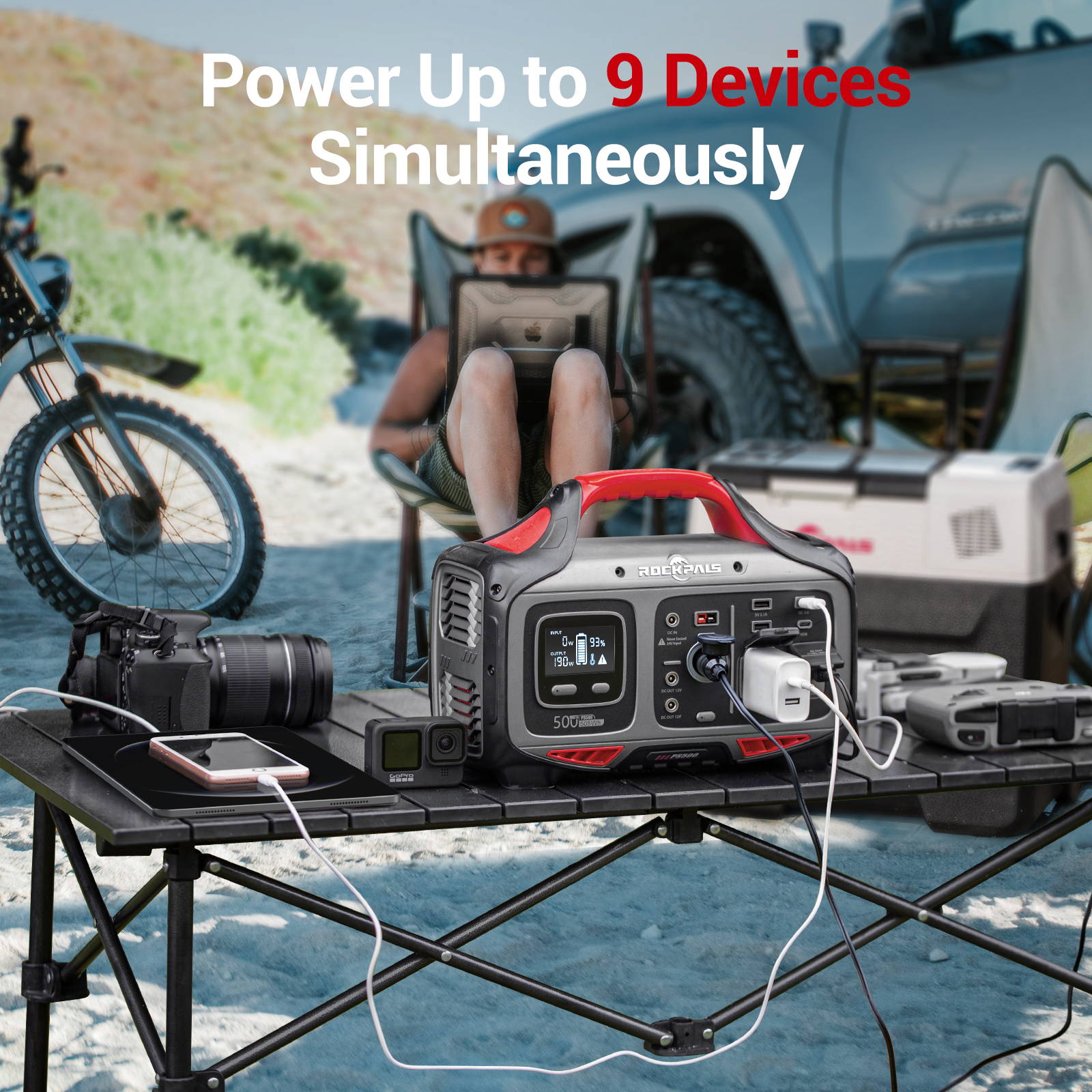 Power up to 9 devices simultaneously
GIVE YOUR APPLIANCES MORE RUN TIME

Seven charging methods to choose from
1. From Car Charger: About 6H
2. From Wall Charger: About 5.5H
3. From USB-C PD Charger: About 9.5H
4. From Solar Panel Charger:The solar panel can charge the power supply through the DC port (72W) or Anderson port (120W max).
5-7. From USB-C PD Charger(45W)+Wall Charger or Car Charger or Solar Panel Charger(72W): only need about 3H with 117W charging power
(Note: the recharging time refers to 80% of the power level being charged)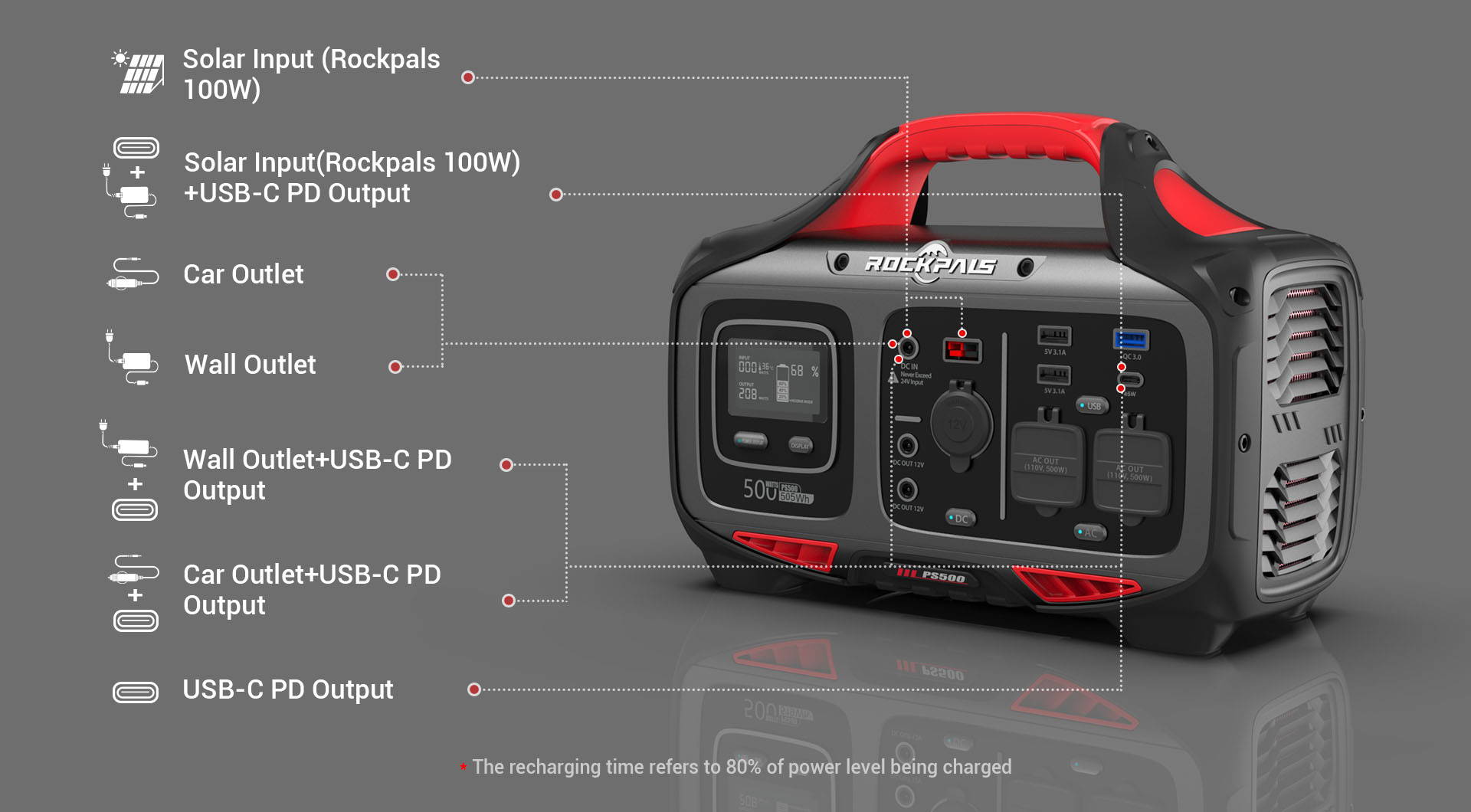 PREPARING YOUR OFF-GRID SOLAR GENERATOR FOR A GREEN AND CLEAN POWER LIFE
Connecting a Rockpals 100w solar panel to the Rockower 500w Portable Power Station creates a solar generator. With our high-quality MPPT technology, the Rockower 500w can be fully charged under full sun in just 9.5 hours. With a Solar Generator setup, you can have an unlimited power source from the sun and always keep charged on the go. (Shop Rockpals Solar Generator)
Solar Recharging Steps:
1. Find the DC interface on the back of Rockpals 100w;
2. Connect the DC interface of Rockpals 100w solar panel with the DC input of Rockower 500w power station.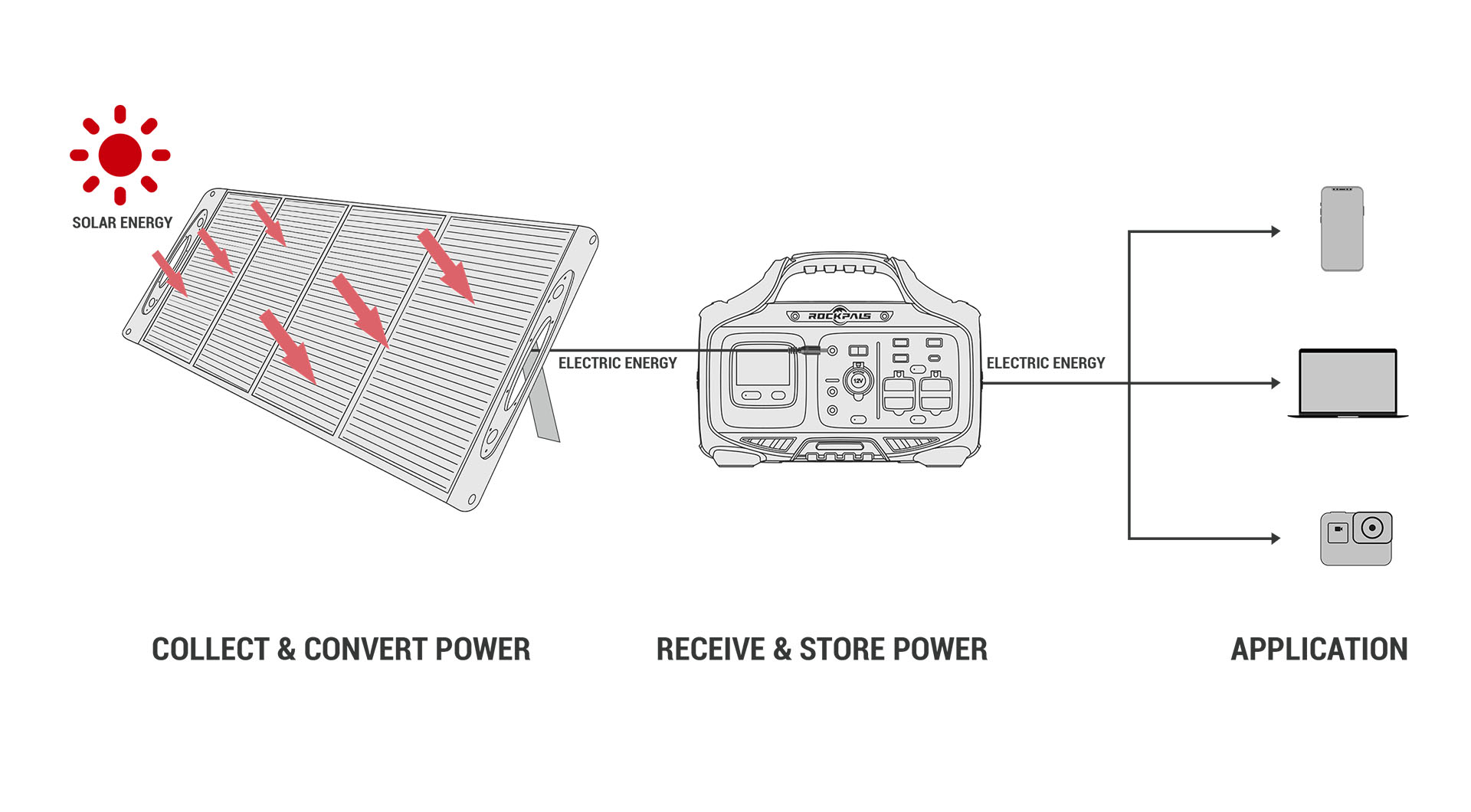 Please Keep the Following in Mind While Solar Recharging:
1. Recharging time varies depending on location, temperature, weather, etc. Therefore, the actual recharge time may be different.
2. Keep your portable power station away from heat and direct sunlight to extend its life span during recharging.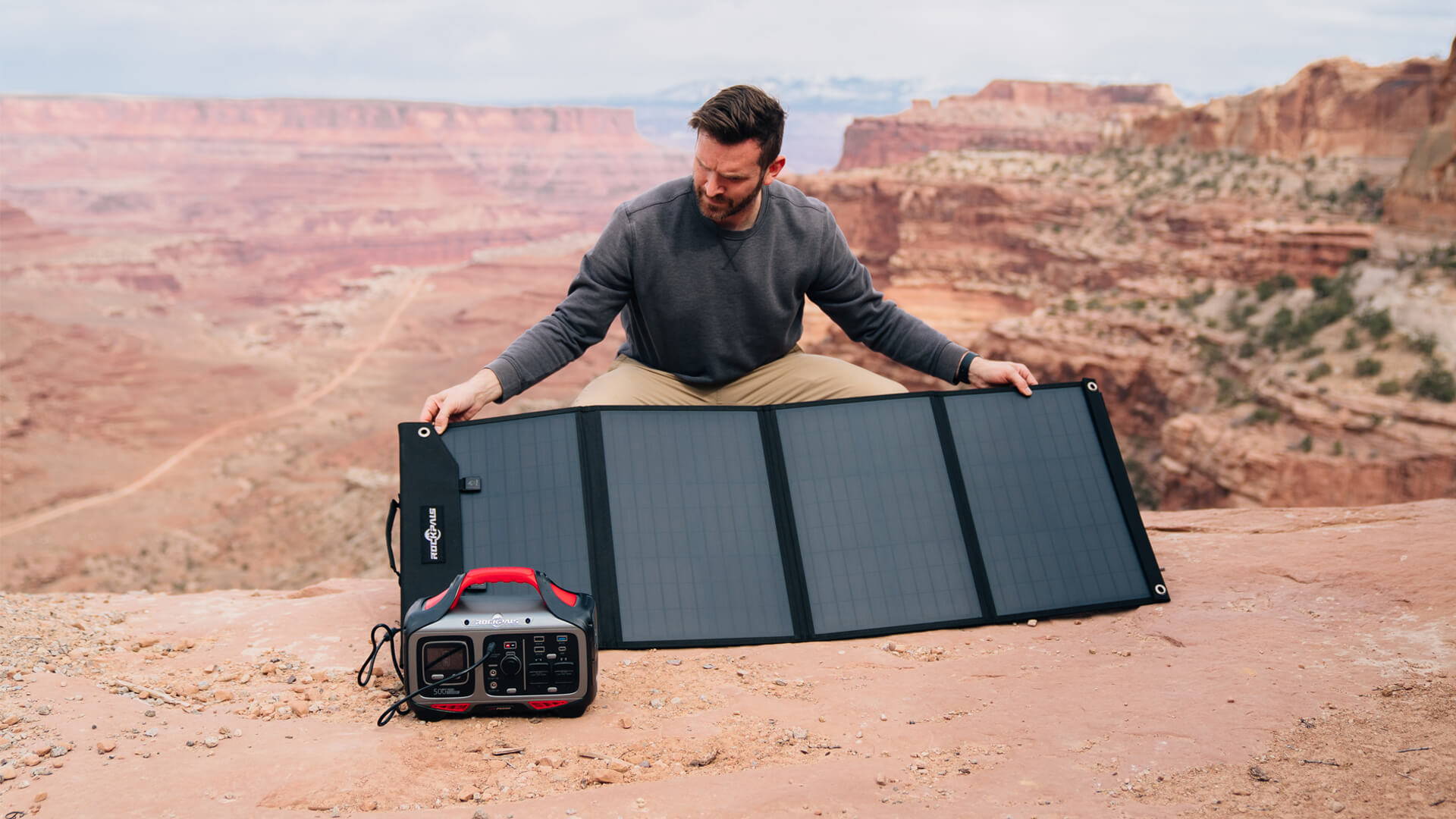 POWER OUTDOORS FOR THE WHOLE FAMILY
RV CAMPING/FISHING/OFF ROAD/HUNTING/BACKYARD GETAWAY/EMERGENCY
The Rockpals Rockpower 500w offers power-to-go in a compact, lightweight design featuring multiple connections to charge your mainstream gear and more. Never worry about a wall outlet or long extension cords. So feel free to go and explore the great outdoors and run your appliances like a blender, pellet smoker, projector, and tools. It can also be used as an emergency backup power supply to run lights, laptops, phones, a small fridge, a CPAP, and other devices in the event of a power outage.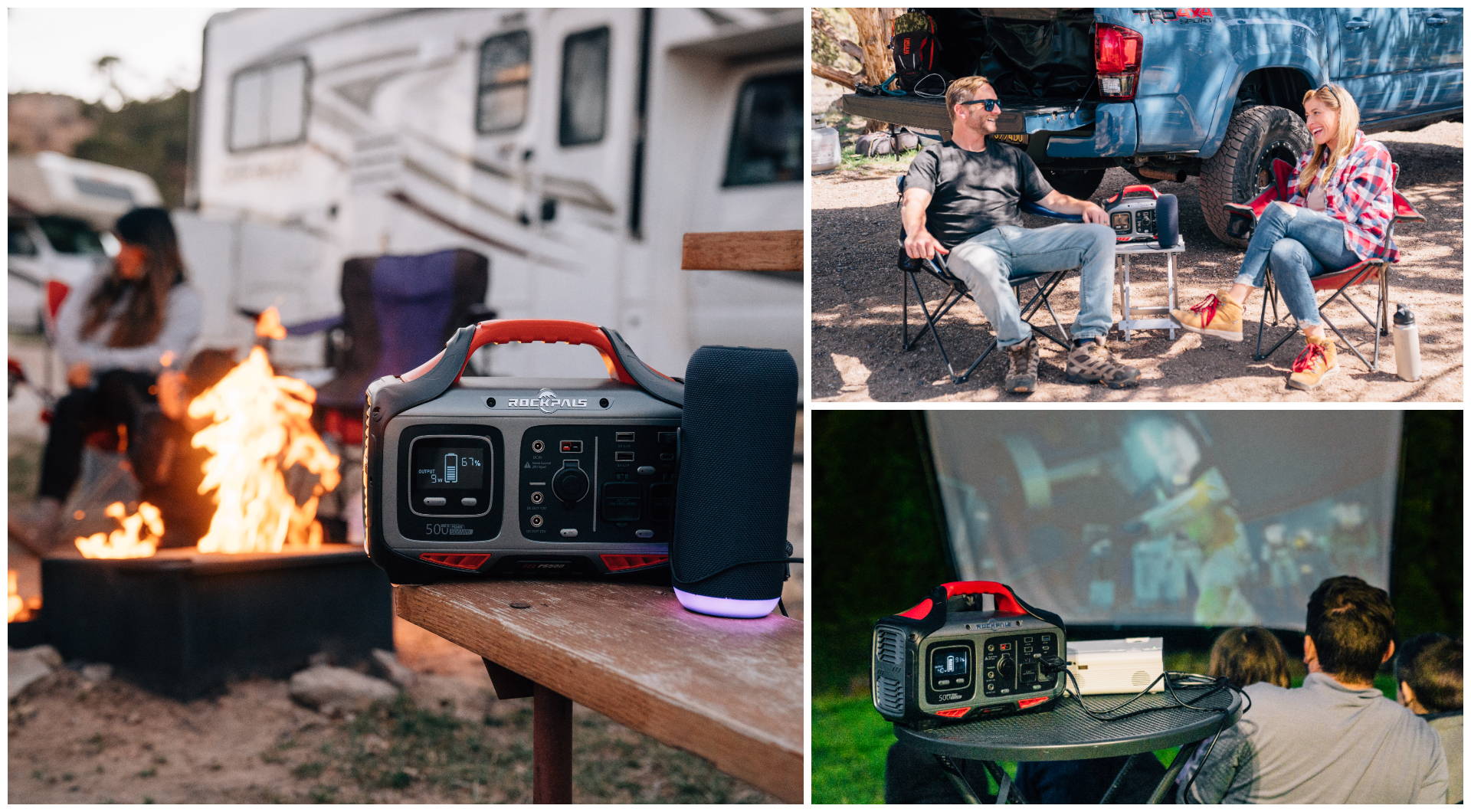 ROCKPALS 500W SAFETY BACKUP POWER STATION
HANDY DURING POWER OUTAGE, CARE FAMILIES, CPAP POWER BACKUP
Specs
SPECS
Capacity
504.44Wh/140400mAh
Dimensions (LxWxD)
12.0 x 9.0 x 6.1 inches
Product Weight
12.3lb
Input

DC Port 24V/3A 72W
USB-C PD Port: 5V/3A, 9V/3A, 12/3A, 15V/3A, 20V/2.25A
Solar Panel: 11~24V 120W Max

Charge Methods
AC Wall Charger, 12V Cigarette Lighter, Solar Panel (13~22V, 6A max)
Full Recharge Time

7-8 Hours (110V AC Outlet)
7-8 Hours (12V Car Adapter)
8.5-9 Hours (13V~22V, 6A max Solar Panel)

1 × Car Port
12V10A
2 × 5mm DC Port
12V/5A
2 × AC Output
100-120V 60Hz(500W Rated, 750W Peak)
2 x USB Output
5V/3.1A
USB-A QC Port
5V/3A, 9V/2A, 12/1.5A
USB-C PD Port
5V/3A, 9V/3A, 12/3A,15V/3A, 20V/2.25A
Cell Type
Lithium-ion Battery
Lifecycles
≥500
Recommend Solar Panels

Rockpals 100W Foldable Solar Panel

What's In The Box

1 x Rockpower 500 Portable Power Station
1 x AC Charging Adapter
1 x Car Charger Cable
1 x Warranty Card
1 x Safety Precautions Card
1 x User Guide
1 x Quick Start Card

Working Temperature

Charge Temperature: 0℃~40℃

Discharge Temperature: -10℃~40℃

Safety Protection
Overheating Protection, Over Current Protection, Over Voltage Protection, Short Circuit Protection
FAQ
FAQS
1. Can the Rockpower 500 be charged while using?
Rockpower 500W solar generator for camping can only be charged while using for DC, USB, Type-C port. But it can't be charged while using for AC to prolong the battery life.
2. What devices can Rockpower 500 power?
The Rockpower 500 power station generator can charge the device under 500W for AC port. Rockpals solar generator can be compatible, mobile phones, tablet computers, tablet computers, GPS, notebook computers, walkie-talkies, GoPro, cameras, drones, holiday lights, and CPAP machines, etc.
3. Does Rockpower 500W equip with regulated 12V DC outport?
Yes, Rockpower 500 equip with regulated 12V. This is the special function of Rockpals 500W, which provide 12 regulated power supply. DC 12V shut off when until the battery empty. When you use sensitive equipment, pay more attention to this parameter when buying portable power station.
4. How to know the working times for my device?
Working time = (504.44Wh x 0.85)/working power of the device. For reference, assuming your device consumes 30W (possibly a 40-inch TV), the working time is 504.44Wh x 0.85/30W ≈ 14hr
5. Why is the adapter hot while charging the power station?
Our accessories include an AC adapter that can be used up to 65°, in addition, the adapter is UL/PSE certified, please feel free to use it.
Safe & Secure
---
Pay with Ease
---
Trusted Delivery
---